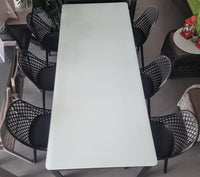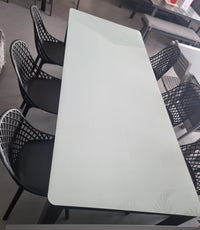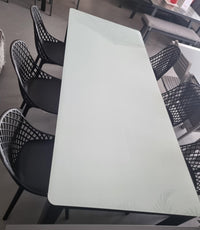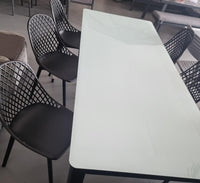 Cozy Furniture
Sunrise Table and Cosmos Chair (Last Setting in Stock)
A perfect duo, the Sunrise and Cosmos dining setting. This furniture set comprises of powder-coated aluminium framing that provides protection against the outdoor elements. 
The Sunrise table comes in various colours and sizes that range anywhere from a small 6 seater table all the way to a big 10 seater dining set. Smooth touches added to the glass and rounded edges on the tabletop to give safety for those of you who have children at home. Black  frame with milky (white) glass,
Table comes in the following sizes:
2.2 x 0.9m RECT

2.26 x 1.55m RECT
This combination has the  Cosmos resin chair moulded to give support for the lower back, comfort is great on this chair and Sunrise table black frame and milky white glass.
Please call our  Showroom for more information (03) 9756 0056