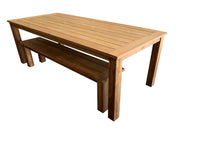 Cozy Indoor Outdoor Furniture
3PCE Belmont Recycled Teak Bench Setting
The neat and sturdy Belmont bench dining set, a configuration that consists of eco-friendly Recycled teak, one of our most prestigious forms of vintage hardwood. Recycled teak has extremely fine properties as it only strengthens as it ages throughout its lifetime, just like good wine. 
For homes that have exposure to the outdoor elements, this dining set is perfect for your outdoor entertainment area with its durability. It will withstand the test of time thanks to its magnificent properties.
Sourced from Indonesia this luxurious timber is constructed from recycled infrastructures such as railroads, churches and buildings. Definitely an eco-friendly way to help protect the environment.
Made to age just like good-wine, this dining set can survive the test of time as it ages it only gets stronger and better. That is the beauty with teak, its great properties and low maintenance.
The Belmont dining table has many ways to maintain the timber, apply protector oil which has the 4 times the strength of standard oil and will maintain the honeycomb colour. If you prefer the grey tone running through the timber then have a look at our instant grey wash! contact our showroom for more information.
The recycled teak does not require much staining unless you wish to maintain its natural honeycomb colour.
Configure this dining set to your liking, choose from a range of chairs or benches to create the ultimate setting for your home. 

Dimensions:
Table size: 230L x 100D x 80H
Bench size: 200L x 50D x 43H
Features:
Eco-friendly Vintage Timber
Strengthens during its lifetime
Sourced from Indonesia 
3 Year Manufacturers Warranty
8 Seater Dining Setting