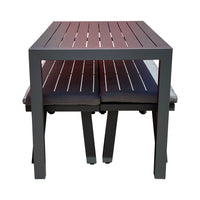 Cozy Furniture
3PCE Matzo Bench Set
Matzo Outdoor Dining Table 140 x 75cm & Lima Outdoor Bench With Cushion
A small outdoor furniture set made with comfort and durability. The Matzo dining table is constructed from powder-coated aluminium that can withstand the test of time when exposed to the outdoor elements. 
Combined with the Lima outdoor benches this furniture set can seat up to 4 people comfortably with its soft weather repellent cushion. The cushion has been treated to ensure protection when exposed to the sun and rain. 
Mix and match this furniture set to your liking with being able to fit up to 6 chairs around this dining table. 
Dimensions:
Table: 140cm x 70cm 
Bench: 117cm x 42cm x 45cm
*Please note - Limited amount of benches remaining, contact your nearest showroom for more information*