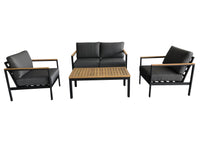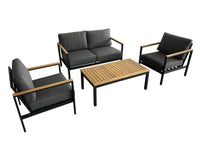 Cozy Indoor Outdoor Furniture
Gatwick Lounge Setting
Compacted and durable, introducing the Gatwick 4 piece lounge setting. Perfect for homes that have limited space but still want the comfort to lounge. 
Beautifully crafted with a mix of teak and aluminium that is eco friendly and extremely durable against the outdoor materials. 
This compacted setting comes with a twin seater and two arm chairs with a coffee table. Gun metal grey colour coding with a nice golden teak look on the arms and coffee table top. 
Cushioning that is Olefin material that is water resistant and protected against any moulding and mildew.