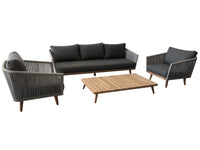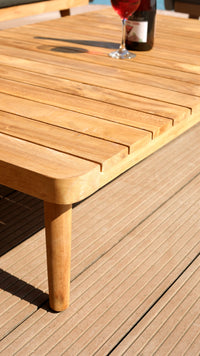 Cozy Furniture
4PCE Optima Rope Lounge Setting
Optima Rope Outdoor Lounge Setting
The latest design when it comes to outdoor lounges, the Optima lounge comprises a three-seater, two armchairs and a coffee table. An amazing piece with olefin rope that has been delicately weaved through the furniture, combined with the solid recycled teak this spectacular design will add elegance to your home.
With the benefits of UV protection and water repellency, this lounge setting can be placed in an outdoor patio area. 
Recycled teak is one of most vintage pieces of hardwood timber, being recycled from buildings and infrastructures this timber can last a lifetime! just like wine, this timber as it ages it just gets better.
Cushions are made from Olefin material which consists of different fabrics that are backed with high strength polyesters and PVC, making these cushions water repellent like no other and protected against colour fading.
Made like no other, the Optima Outdoor Lounge is one of a kind with a 3-year manufacturers guarantee.
Limited Amount Remaining - Please Contact Your Nearest Showroom For More Information