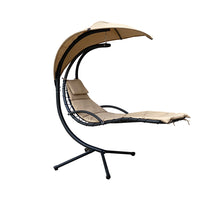 Cozy Furniture
Apolo Hammock Swing
Apolo Hanging Hammock Swing Chair with Shade Sail
Lay back and relax with the Apolo swing, this beautiful swing chair is made to get you feeling extremely COZY with its great strong Textilene sling wrapped around powder-coated aluminium.
Not only is this swing relaxing, but it also has shade while you sit back and enjoy the great outdoors. Available in black colour with a cream water-resistant cushion that comes with a headrest.
The shade is also made to be water repellent and UV treated to ensure longevity when this chair is exposed to the outdoor elements.