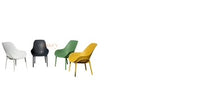 Cozy Furniture
Bailey Lounge Chair with Syros Coffee Table
Bailey Occasional Lounging Outdoor Resin Chair with Coffee Table.
Please note: charcoal chairs are sold out but mustard color is available.
Sit back and relax with the Lido Occasional chair, a beautiful deep chair that brings ultimate comfort when enjoying the great outdoors. 
Constructed from UV Stabilised polypropylene, made for outdoor use thanks to its strong construction and has a beautiful on-trend moulded design. 
Low maintenance and perfect for your outdoor area, may it be your patio or balcony you can definitely get comfy while you enjoy a read or a nice drink.
Combined with a small coffee table you can definitely leave this setting outdoors without having to worry thanks to its material!
Dimensions:
Bailey Chair: 590W x 770D x 825H
Bailey Coffee Table ROUND: 500mm x 500mm x 480mm