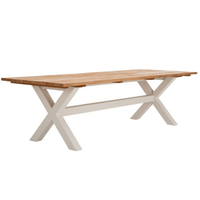 Cozy Furniture
Bellona & Luis Slat Dining Setting
The Bellona dining setting is made from prestigious recycled teak combined with Powder coated aluminium giving you ultimate durability against the outdoor elements. Perfect for homes that do not have cover for the outdoor patio area but also even better if it is undercover.
With Recycled teak as the teak ages it only gets better, just like wine! 
Combined with Luis slat dining chair this setting is one of the most durable settings if you do want to leave it entirely outdoors in the rain or the sun, even in Australia's weather conditions this setting will definitely last!
Maintaining the teak top will require staining once every 2 years depending on how much exposure it has against the outdoor elements, however with teak it will fade into a very nice silver greyish colour that you may even love more than the natural honeycomb colour!
Table is available in two sizes however there is a limited amount
Bellona 2.7 x 1m RECT fits 8-10 people
Bellona 2.1 x 1m RECT fits 6-8 people
Mix and match chairs to suit your style!