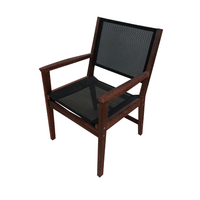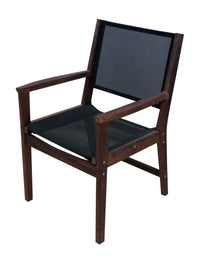 Cozy Indoor Outdoor Furniture
Bronx Sling Dining Chair
Bronx Sling Outdoor Dining Chair
A solid dining chair made for any Merbau outdoor dining setting, the Bronx sling chair is constructed from Merbau timber which is a solid timber that is used for decking and patios. 
Combined with a textiline seating and backing, the textilene is a synthetic fabric that is consisting of polyester and PVC compounds. Meaning this sling can be exposed to the outdoor elements with no problems and is made for outdoor patio furniture. 
Mix and match this chair with any Merbau dining table of your liking to create the ultimate combination. 
If you are after something durable and strong with the feature of never looking old then this Merbau chair is perfect for you, the beauty with this hardwood is the feature of being able to sand the timber and re-oil to increase its longevity and bring back its natural look.