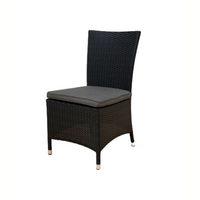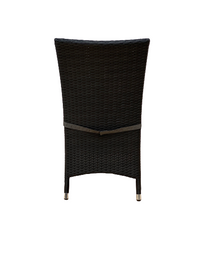 Cozy Indoor Outdoor Furniture
Chevron Armless Chair
Chevron Wicker Armless Outdoor Dining Chair Black
The Chevron Wicker Armless chair is one of a kind with its elegant design and chair pad cushion that brings you comfort when enjoying the great outdoors. 
Constructed from handwoven wicker with high-quality raw materials to help prolong its life against the outdoor elements. A powder-coated aluminium structure is under the wicker to prevent rusting and corrosion from occurring. 
UV stabilized cushion and wicker that prevents fading when exposed to the sun however we do recommend to cover the cushion and wicker to prolong the lifespan of the furniture.
Wicker has been tested for over 2000 hours against the harshest conditions to ensure top quality has been built. Underneath the wicker is powder-coated aluminium that will not rust when exposed to rain or water and allows low maintenance to keep clean, we recommend a cloth with soapy water or you can just hose the furniture off with water. 
Some features include:
ECO Friendly: Recyclable 
HDPE Wicker: High tensile strength
UV Resistant: Protected against the UV
Light Weight: Rust-proof aluminium frames
Weather Resistant: Quality Materials
Exclusive Designs: Only available at Cozy Indoor Outdoor Furniture 
Dimensions:
Height to Seat: 40cm 
Height to Back: 87cm
Width: 47cm 
Length: 50cm