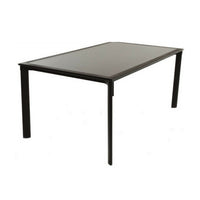 Cozy Furniture
Chicago Dining Table
The Chicago table is one of our finest aluminium dining tables, mixed with glass to give an elegant and stylish look.
Powder Coated Aluminium that undergoes a long procedure to ensure protection against the outdoor elements. Made from our Indulgence range which are all versatile handmade furniture that is designed for extreme comfort, style and also function. Not only is there an elegant design but there are many colours available. 
Sizes available for the Chicago table 
1.8 x 1m Fit for a 5PCE or 7PCE
2.4 x 1m Fit for a 7PCE or 9PCE
Features:
Eco Friendly - Recyclable 
HD - High density 
UV Resistant - Protected against the UV 
Lightweight - Rustproof Aluminium frames 
Weather Resistant - Quality Materials
Exclusive Designs - Only available at Cozy Indoor Outdoor
Every piece that has been put together to establish the final product has been designed by professionals and have been taken special care to ensure that the materials are suitable for use in Australia's outdoor conditions.
Comes in many configurations that can fit your outdoor area.