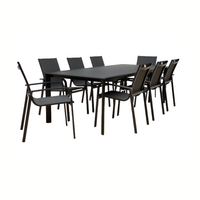 Cozy Furniture
Chicago & Pandora Dining
Chicago Outdoor Dining Table with Pandora Sling Dining Chair
A combination that can be customised into either an eight seated table or a six seated table. Either configuration is a great choice as this outdoor set is constructed from powder-coated aluminium framing that has been spray in black. 
The Pandora Sling Chair is a great choice for outdoor use, a black powder-coated aluminium frame combined with a black onyx (weaving texteline) sling which is all protected from the outdoor elements. Easy to clean these chairs as you can just hose it down or use mild soapy water with a cloth. 
Another handy feature with these chairs is they are stackable, great for times when you are not using this outdoor dining setting and want to keep it stored away during the colder periods or when you are on a holiday. 
The Chicago dining table is a fabulous table with its sleek corners and tempered/toughened glass that has been sprayed to produce a matte black effect. This glass has been toughened to ensure variations in weather do not deteriorate the strength of the glass. However, we do recommend placing hot cups on coasters when the morning/night is cooler and vice versa. 
This Outdoor Dining Set is an excellent combination with low maintenance and great longevity when exposed to the outdoor elements. 
Dimensions:
Table: L 240cm x W 100cm 
Pandora Chair:
Length: 56cm 
Width: 57cm 
Height to Arm: 61cm  
Height to Back: 89cm