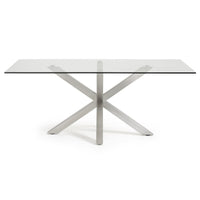 Cozy Indoor Outdoor Furniture
Coco Dining Table
Simple and elegant, introducing the Coco dining table. Constructed from glass and silver stainless steel base that presents a complex yet modern specialty to any home.
Manufactured with beautiful craftsmanship that promotes a versatile dining table that seats anywhere from 4-8 people comfortably. An indoor dining table that's low maintenance and yet compliments the room.
The Coco is available in three sizes to suit your space. 
Dimensions:
150cm x 90cm
180cm x 100cm
200cm x 100cm