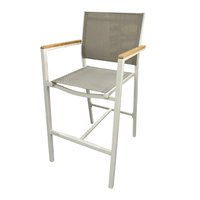 Cozy Indoor Outdoor Furniture
Como Bar Dining Chair
Como Outdoor Aluminium White Bar Dining Chair
Looking for something different to a regular dining chair, feel majestic with the Como Barstool. An elegant design with natural recycled teak on the arms of the chair combined with a beautiful white powder-coated finish. 
Made for outdoor use. This chair has low maintenance with durable properties to ensure longevity when left in your outdoor entertainment area. 
Contact your nearest showroom for more information.