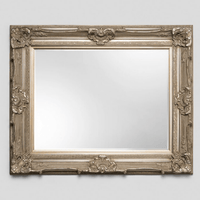 Cozy Indoor Outdoor Furniture
Grande Ornate Mirror
A wonderful addition to enhance many different settings, helping with the overall decor and creating more space with their reflection. Any accent mirrors are a must-have for your home. 
Introducing the Grand Ornate framing, the perfect pick for any traditional or glam interior design. This one features a frame made from resin with an arched top and intricate detailing.
Available in many colours such as Black, Gold, Silver and White with a large variety of sizes to choose from. 
Dimensions: 
56 x 61cm 
96 x 125cm
96 x 188cm
112 x 157cm 
137 x 188cm 
157 x 217cm
Frame Width 180mm and Frame Height 100mm