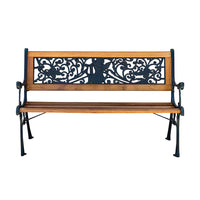 Cozy Furniture
Garden Bench
Outdoor Metal Garden 150cm Bench
Feel comfortable seating in your garden with our magnificent outdoor timber garden bench. This bench is 150cm long with beautiful brown timber slatting combined with curved metal arms. 
Cast aluminium pattern on the back of the bench that styles the beach. 
Seat up to 3 people comfortably when enjoying the great outdoors.