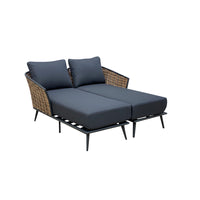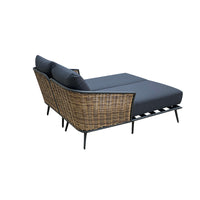 Cozy Furniture
Dallas Chaise Last set
Dallas Outdoor 2 Seater Daybed Lounge
Sit back and put your feet up with the Dallas Chaise Daybed Lounge. A daybed that can be split into a chaise with the option of putting a small table in the middle. The Dallas Daybed is one of a kind with its great raw materials to enhance its durability when left outdoors. 
The Dallas lounge is constructed from a combination of powder-coated aluminium and a thick brown tone wicker weaving. The gunmetal grey aluminium frame works well with the light brown wicker tones giving a great look with great materials when left outdoors. 

Cushions come with amazing comfort with its ultra-plush cushioning with great UV protection and water repellency. Keeping the cushions undercover or stored away when it is not in use will help prolong the life of the cushion.