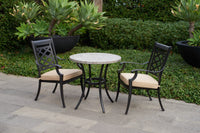 Cozy Furniture
Florida & Yarra Dining Set
Florida Ceramic Outdoor Dining Table with Yarra Cast Aluminium Dining Chair
Pre Order Available
A combination that is all year round outdoor proof, the Florida Ceramic dining table combined with the durable Yarra Cast Aluminium dining chair. This configuration is a modern design with great raw durable materials.
The cast aluminium is made to withstand the sun and rain all year round, with its thick structure and powder-coated finish it will definitely never rust when left outdoors.
Combined with a ceramic top finish gives an elegant style with durability for outdoor use. 
 Table Measurements
Other table sizes available: 
75cm round x 74cm high
160cm wide x 100cm deep