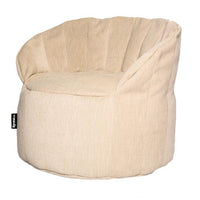 Cozy Indoor Outdoor Furniture
Jaffa Chair
The Jaffa Chair is our hidden secret!  Made of a gorgeous textured fabric, both the Linen and Ash Jaffa Bean Bags provide a sophisticated but comfortable alternative to a more traditional piece of furniture.  A beautifully designed and functional piece, it can transition between high end designer homes and a cozy corner for your kids. 
Requires 400 litres Bean Filling 
FINISH & DIMENSIONS
840 W X 600 D X 800  (BACK HT) X 420  (SEAT HT)
Made from 100% Polyester/Viscose Blend that is both soft and durable.