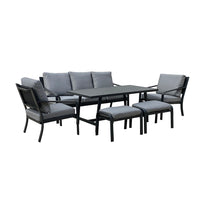 Cozy Furniture
Kaskade Lounge 6 Pieces Last Setting in Stock
Enjoy the great outdoors with the Kascade lounge, a configuration like no other. 
Space and compatibility are some of the best features that the Kascade Outdoor Lounge has to offer, 2 x armchairs and a three-seater with a high coffee table combined with two ottomans where you can put your feet up or seat the kids. 
If you are worried about space in your outdoor entertainment area then the Kascade aluminium lounge has plenty to offer, constructed with a high-back feel and raw materials that are extremely tough when exposed to the outdoor elements. 
Features:
Powder-coated aluminium framing
6 Piece furniture lounge set
24-Months manufacturers warranty 
Plush Outdoor Water Resistant Cushioning