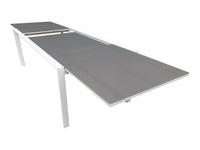 Cozy Indoor Outdoor Furniture
Loft Extension Table Champaign Color
Loft Extension Outdoor Dining Table 2.2-3.3 x 100cm 
Want a dining table that can fit the whole family and friends around comfortably?
The Loft Extension has an amazing extension of 330cm long, resulting in seating up to 12 people comfortably.
This extension table can generally fit around 6-8 people when enclosed however when extended it can fit 10-12 people comfortably around the entire table. 
Easy to use mechanism to extend and close, where the middle glass will lift/fall underneath the longer glass pieces that will push in towards one another. 
Mix and match this table with any chair of your choice to create your style. 
Choose from a range of colours including Champagne, White and Grey. Contact your nearest showroom for more information 

Dimensions:
L 2.23-3.30m W 1.05m H 0.77m