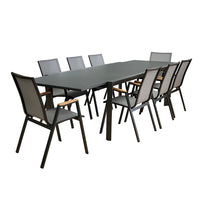 Cozy Indoor Outdoor Furniture
Loft Extension Dining Table
Loft Extension Dining Table Ex Display Table Only
Made from powder-coated aluminum with tempered and toughened glass that has the strength the same as a car's front shield. Not only is the glass extremely durable but extends out to fit up to 12 people comfortably. When closed down the table can seat up to 8 people comfortably.

Available in Gunmetal.
Enjoy the great outdoors with this beautiful extension setting that can fit up to 12 people. 
Dimensions:
Table
2.2-3.3 x 1.15m RECT