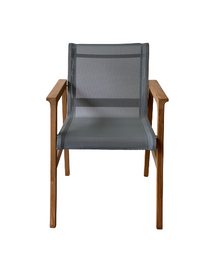 Cozy Furniture
Lux Dining Chair
Lux Outdoor Recycled Teak Dining Chair with Grey Texteline Sling
A classical outdoor dining chair that is constructed from recycled teak and combined with a grey texteline, making this dining chair a great choice for outdoor use. 
The Lux Outdoor dining chair is made to bring ultimate comfort with its curved edges and curved seat that helps protect your legs from getting injured when seated.
Can be combined with any teak table of your liking to create the ultimate dining setting.