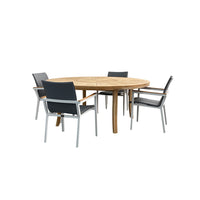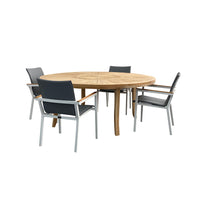 Cozy Furniture
Milano & Felice Last Table In Stock
Milano 188cm Recycled Teak Round Table ( inbuilt Lazy Susan) with Felice Teak Arm White Aluminium Dining Chair
A beautiful configuration with a round design that makes your dining experience more sociable. The Milano and Felice outdoor dining setting is a great choice for those homes with space for a round table, with its large size this table does come with an in-built lazy-Susan. 
All constructed from recycled teak which is one of the most durable hardwoods, recycled teak is made from old infrastructure such as buildings, railroads, boats and so much more. This history of the teak can be seen through the grains of age.
Recycled teak is just like wine, as it ages it only gets better. They say this timber can last over 200 years when exposed to the elements. Keep in mind that the teak does wash away into a beautiful grey tone but can be stained to bring out the natural honeycomb colour.