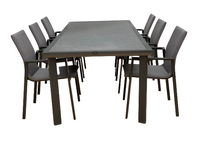 Cozy Furniture
Rialto
9 Piece Rialto Cement Fibre-Glass with Bronte Padded Aluminium Outdoor Dining Setting
A sleek combination with the latest trends, the Rialto & Bronte Outdoor Dining setting. This outdoor set is an easy low maintenance furniture set that can withstand the outdoor elements so you can have a peace of mind when enjoying your outdoor entertainment area. 
The Rialto is a table that has a mixture of materials, a combination of powder-coated aluminium combined with a durable tabletop that is constructed from cement and fibre-glass. This duo helps prevent any fading and rusting from occurring. 
Bronte is a beautiful chair with a great design. The dining chair is made from olefin fabric that gives off an indoor look, this olefin fabric is constructed with UV stabilisation and water repellency which are perfect when it comes to outdoor use. They are also stackable for times that they are not in use. 
Easy to clean, with the chairs you can use mild soapy water cloth or can also hose the chairs down.
Dimensions:
Table 237cm x 100cm