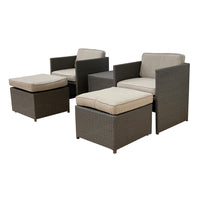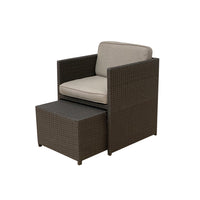 Cozy Furniture
Space Saver Lounger
5PCE Space Saver Lounger Chair with Ottoman and Cushions
Are you looking for a furniture set that is compact and extremely comfortable, then the Space saver might be the right lounging set for you.
A design that is versatile, the space saver allows the ottomans to be stored within the lounging chair. Each chair comes with a seat and back cushion and the ottoman also comes with a cushion. 
Constructed from High-Density Polythyrene Wicker that is UV treated and protected with its durable powder-coated aluminium frame. Cushions are made from Olefin material that is a high-quality synthetic fibre protected against fading. 
Move the furniture around to suit your style! 
Limited amount remaining in stock, contact your nearest showroom for more information.