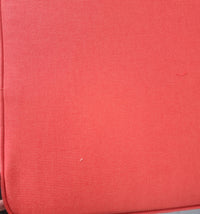 Cozy Indoor Outdoor Furniture
Terecotta Mid-Back Cushion
Make the most of your outdoor area with the elegance range. Elegance is handmade by skilled craftsmen to ensure comfort, style and function. 
UV resistant 
Water-resistant 
Dacron foaming, protection against moulding and mildew
comes with a 1-year manufacturers warranty
exclusive designs
Cushions come with ties to help secure them to the legs of the chair and also come with a band that can be adjusted to tighten or loosen the back piece to the chair. 
Here we have a range of highback, midback and chair pad cushions. All come in a range of colours and styles depending on what you are after. We are able to get more colours if you are interested please contact us regarding more information for the cushions.
Midback Cushion Dimensions:
Seat:
                (L) 45cm x (W) 49cm (H) 5cm
Back        (L) 55cm x (W) 49cm (H) 5cmL